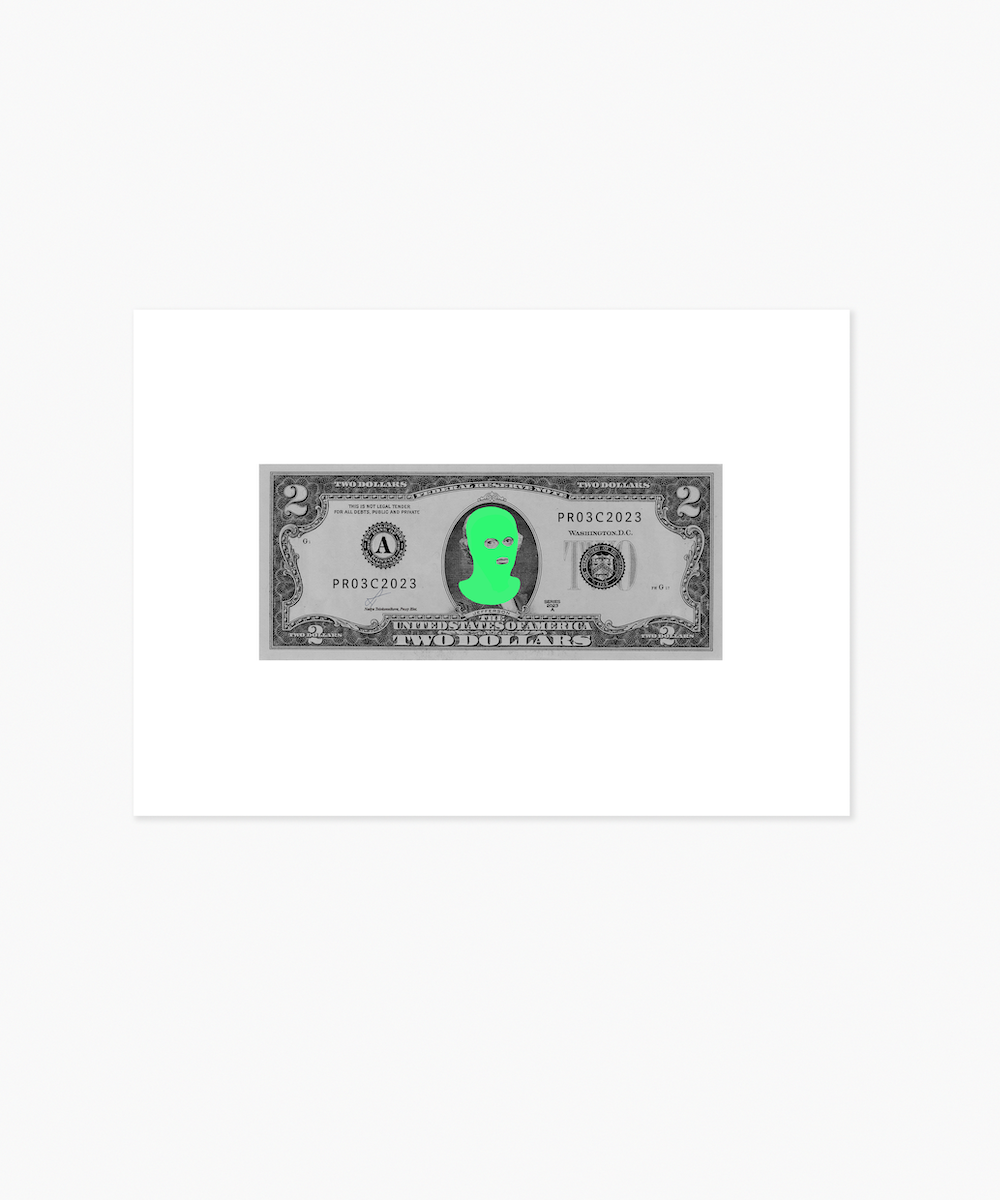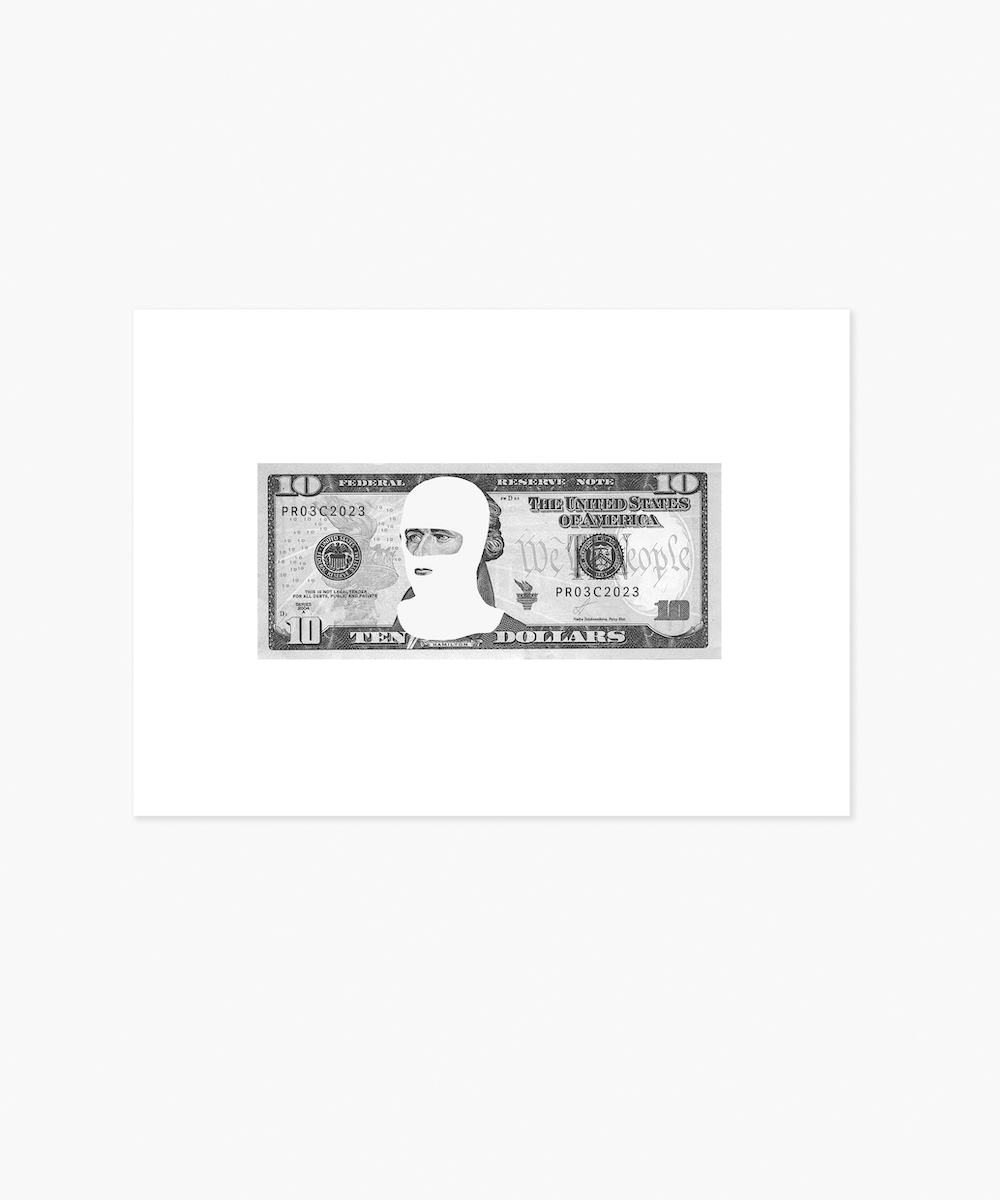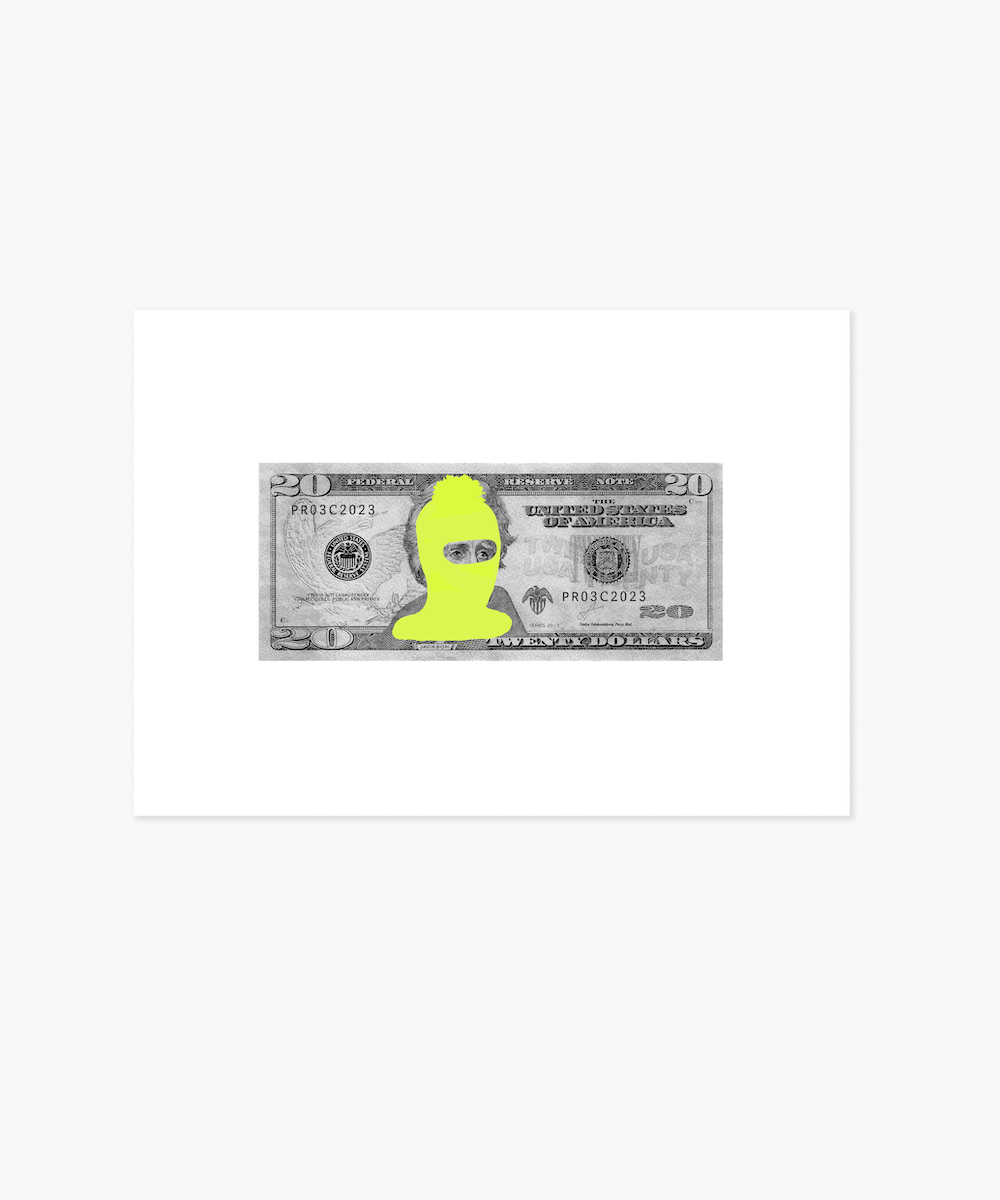 PU$$Y RIOT 
Series of 7 prints: $1, $2, $5, $10, $20, $50, $100
Limited edition of 150 per print
210 x 297mm
Hand-Signed COA
£131.20 inc.VAT

Discover a series of seven prints by Pussy Riot (Nadya Tolokonnikova) featuring seven male faces on US paper notes disguised anonymously in balaclavas.

A woman has not featured on US paper money in over 100 years since Martha Washington's portrait was featured on the one silver dollar note in the 1880s and 90s. There are currently seven bills in circulation $1, $2, $5, $10, $20, $50 and $100 – all featuring men and each one a symbol of the patriarchy.

Each screen-print in this unique PU$$Y RIOT series displays a black and white screen-printed US paper note and colour screen-printed balaclava. Each artwork arrives with a Certificate of Authenticity that is hand-signed by Nadya Tolokonnikova. A printed signature also features on each artwork, replacing the signature belonging to the Secretary of the Treasury. Other details include a customised Serial Number PR03C2023 symbolising: PR (Pussy Riot) 03 (March) C2023 (CIRCA 2023)
Proceeds will support the #CIRCAECONOMY – a circular model that funds the CIRCA free public art programme and creates life-changing opportunities for the wider creative community.


ABOUT THE EXHIBITION
Launching on International Women's Day (8 March – 5 April 2023) CIRCA presents a new work by renowned women's rights activist, Pussy Riot (Nadya Tolokonnikova). 
Influenced by the landmark overturning of Roe v. Wade on 24 June 2022 – an historic Supreme Court decision which had granted women the right to an abortion in the United States since 1973 – Tolokonnikova responds to the CIRCA 20:23 manifesto 'Hope: The Art of Reading What Is Not Yet Written'. With the name Nadya or Nadezhda meaning "hope" in many Slavic languages, the punk icon sparks a global conversation surrounding patriarchy at a time when women's rights are being challenged all over the world.
In March 2022, Tolokonnikova helped raise $7.1 million for Ukraine relief with the sale of a 1/1 NFT depicting the Ukraine flag. Twelve months later and, building on her commitment to create art that challenges existing power structures, promotes gender equality, and celebrates the diverse experiences and perspectives of women, the purple wax candle-sculpture titled Fragile Masculinity Genesis will be auctioned at Sotheby's as part of the online sale 'My Body My Business' (7 – 14 March).

SUBSCRIBE AND SAVE £500 ANNUALLY
Become a CIRCA Collector and receive 12 #CIRCAECONOMY prints by some of the world's greatest artists delivered to your door throughout the year. Each collector receives a custom CIRCA BOX FRAME™ to house and display your growing art collection. Discover more here.

SUPPORT THE #CIRCAECONOMY
Proceeds from each print directly support the #CIRCAECONOMY – a circular model designed to fund the CIRCA free public art programme and create life-changing opportunities for the creative community.
Since launching in October 2020 on London's iconic Piccadilly Lights, CIRCA has distributed over £500,000 in cash grants, scholarships and donations. Discover more here. 

CERTIFICATE OF AUTHENTICITY
Each Limited Edition comes with a hand-signed, numbered and dated certificate of authenticity. 
ABOUT NADYA TOLOKONNIKOVA
Nadya Tolokonnikova is a Russian musician, conceptual artist, author and political activist. She is a founding member of the anarchist feminist group Pussy Riot, and has a history of political activism with the street art group Voina. Her staunch activism in her home country of Russia saw her imprisoned in 2012 following a work of political performance art inside the Moscow Cathedral of Christ the Saviour.
Throughout her career she has published books, written essays, released music and fought against corruption and human rights violations.​​ Co-founder of independent news service and media outlet, Mediazona, she has spoken before the US Congress, British Parliament and European Parliament. Awards include Time magazine, Women of the Year, 2012; LennonOno Grant for Peace, 2012; The Guardian, Best Art of the 21st Century, for 2012; The Punk Prayer political art piece, in 2019; and OutRight Action International Outstanding Award for her effort raising $7M in donation for Ukraine with the NFT Project Ukraine DAO, 2022.


DELIVERY
Although we endeavour to deliver the prints as soon as possible, please note that due to the process involved, it may take up to 2 months to arrive in the post. To guarantee each print arrives in perfect condition, they are carefully wrapped in tissue paper, hand packaged in a heavy duty cardboard wrap and delivered with a tracking number. This is reflected in the shipping fee at checkout.

INTERNATIONAL SHIPPING
VAT is calculated in the checkout section in your cart and is dependent on the shipping destination. If your order is below 150€ then we will collect import duties for the EU at checkout. If it is over 150€ or your delivery address is not within the UK or EU, you may be subject to import duties, taxes and delivery service charges, which are levied once a shipment reaches your country. Any such additional charges for customs clearance must be borne by you.

ABOUT CIRCA
The Cultural Institute of Radical Contemporary Arts (CIRCA) is an art and culture platform with purpose. We stop the clock on global media spaces every evening at 20:23 local time, mobilising the world's greatest creative minds to broadcast unique works of art that consider our world, circa now. 

Previous CIRCA commissioned  artists include Patti Smith, Tony Cokes, Yoko Ono, Marina Abramović, David Hockney, Ai Weiwei, Anne Imhof and more. Discover more here.