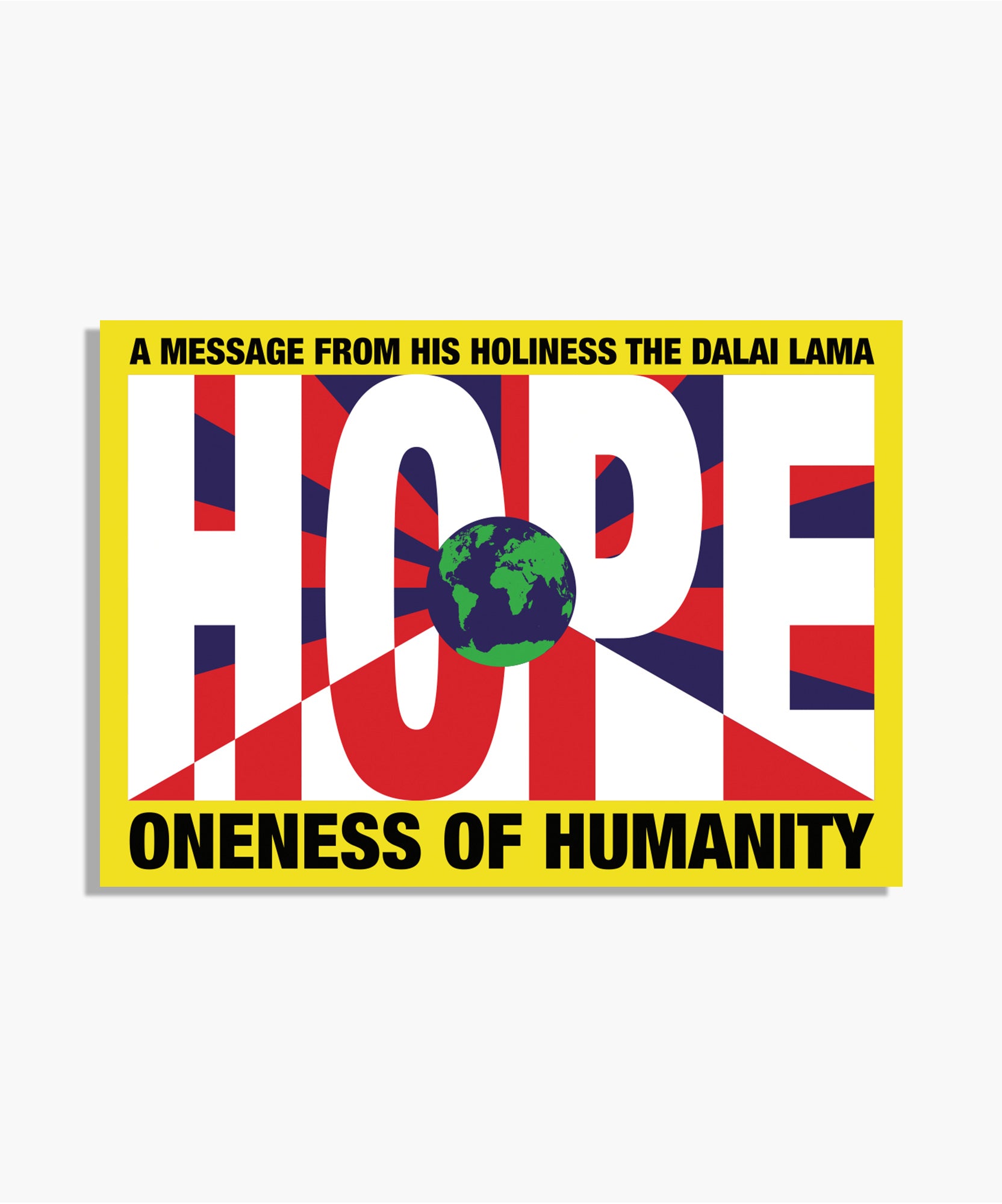 The Art of Hope  
Silkscreen print, 5 hand-pulled screens on Somerset paper 300gsm 
Time-Limited edition 
210mm x 297mm
£150 inc. VAT


His Holiness the Dalai Lama, one of the most influential figures of our time, calls on the world to consider the oneness of humanity with The Art of Hope presented in collaboration with CIRCA. Launching 11 January 2023 on London's Piccadilly Lights and broadcasting across a global network of screens in Los Angeles, Melbourne and Berlin, His Holiness the Dalai Lama said: "I am trying to promote the sense of oneness of 7 billion human beings. This world, we have to live together."
To coincide with this historic project, His Holiness the Dalai Lama created this limited edition silkscreen print. 

PRINT-SIGNED LETTER
Each Limited Edition comes with a print-signed copy of His Holiness' letter, written in response to the CIRCA 20:23 manifesto, 'Hope: The Art of Reading What Is Not Yet Written'.
SUBSCRIBE AND SAVE £500 ANNUALLY

Become a CIRCA Collector and receive 12 #CIRCAECONOMY prints by some of the world's greatest artists delivered to your door throughout the year. Each collector receives a custom CIRCA BOX FRAME™ to house and display your growing art collection. Discover more here.

SUPPORT THE #CIRCAECONOMY
Proceeds from each print will support the Tibet Hope Centre and #CIRCAECONOMY – a circular model designed to fund the CIRCA free public art programme and create life-changing opportunities for the creative community. Discover more here.

RELEASE DATE
Available exclusively on CIRCA.ART until 31 December 2023. 

CERTIFICATE OF AUTHENTICITY
Each Limited Edition comes with a stamped and dated certificate of authenticity. 
DELIVERY
To guarantee each print arrives in perfect condition, they are carefully wrapped in tissue paper, hand packaged in a heavy duty cardboard wrap and delivered with a tracking number. Although we endeavour to deliver the print as soon as possible, please note that due to the process involved, they may take between 3-6 weeks to arrive in the post. The shipping fee is calculated at checkout.

INTERNATIONAL SHIPPING
VAT is calculated in the checkout section in your cart and is dependent on the shipping destination. If your order is below 150€ then we will collect import duties for the EU at checkout. If it is over 150€ or your delivery address is not within the UK or EU, you may be subject to import duties, taxes and delivery service charges, which are levied once a shipment reaches your country. Any such additional charges for customs clearance must be borne by you.

ABOUT HIS HOLINESS THE 14TH DALAI LAMA
His Holiness the 14th Dalai Lama, Tenzin Gyatso, describes himself as a simple Buddhist monk. He is the spiritual leader of Tibet. He was born on 6 July 1935, to a farming family, in a small hamlet located in Taktser, Amdo, northeastern Tibet. At the age of two, the child, then named Lhamo Dhondup, was recognized as the reincarnation of the previous 13th Dalai Lama, Thubten Gyatso.
The Dalai Lamas are believed to be manifestations of Avalokiteshvara or Chenrezig, the Bodhisattva of Compassion and the patron saint of Tibet. Bodhisattvas are realized beings inspired by a wish to attain Buddhahood for the benefit of all sentient beings, who have vowed to be reborn in the world to help humanity. 

His Holiness does not accept any fee or honorarium for The Art of Hope. 
ABOUT THE TIBET HOPE CENTRE 
The Tibet Hope Centre is a non-governmental organization with a focus on helping the Tibetan people stand on their feet and become productive and positive members of society, be it local or international. By uniting the Tibetan people together with those of other backgrounds, the Tibet Hope Centre wants to bring compassion, hope, peace and love, the values instilled by the Tibetan culture, to the world, bit by bit.
Through various projects and activities held in Northern India such as Skill Development Programmes for youths; Distribution of humanitarian aids to needy people; Facilitation of educational and cultural programmes for International students and many more. Tibet Hope Center offers various opportunities for the Tibetan people, volunteers and interns from around the world. 
ABOUT CIRCA
CIRCA commissions a different artist each month to present new ideas that consider our world today, circa 2022. Previous CIRCA commissioned artists include Patti Smith, Tony Cokes, Yoko Ono, Shirin Neshat, David Hockney, Ai Weiwei and many more..